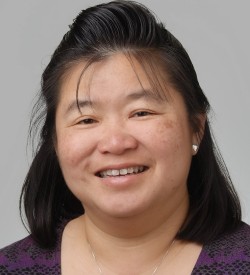 Eileen Cocjin, DDS
She was born in Chicago, grew up in the Philippines where she completed her dental degree before returning to the United States. She obtained her first US dental license in California and decided to go back to school to complete her Pediatric Dentistry certification from the University of Southern California School of Dentistry. She then worked as an associate after until they relocated to Kansas in 2001.
Clinical Associate Professor – Full time Faculty since 2002
o UMKC School of Dentistry Pediatric Dentistry Department
Private Practice:
o 2009 – 2015 – UMKC Faculty Practice
o 2015 – 2017 – My Kid's Dentistry
o 2017 – Present – Little Chompers Pediatric Dentistry
Dental and specialty licenses in Kansas and Missouri
Diplomate – American Board of Pediatric Dentistry
Fellow – American Academy of Pediatric Dentistry
Past President of the OKU Rho Chapter Honor Dental Society
Jay Doc Free Clinic – 2019 Volunteer Dentistry of the Year
Community Service:
o Give Kids A Smile – UMKC School of Dentistry
o MoMOM – Missouri Mission of Mercy
o KMOM – Kansas Mission of Mercy
o JayDoc Fee Clinic – Kansas City, KS
Family: Her husband of 30 years is a practicing Pediatric Gastroenterologist affiliated with Children's Mercy Hospital. They have two children – Jason who is graduating medical school this Spring and is preparing for residency in Pediatrics and Erin who is graduating from Kansas State University this Spring with a degree in Animal Science and continuing to Veterinary Medicine in the Fall. They also have Sam, their 6-year-old Chihuahua/Pekingese that they rescued 3 years ago.