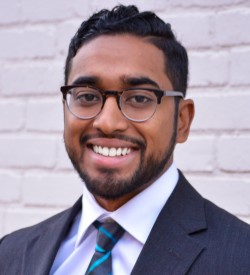 Jaipal Singh, a Program Manager at TeamSmile, has been a part of the team since 2015. He graduated from the University of Kansas in 2013 with a B.S. in Molecular and Cellular Biology. Mr. Singh is very passionate about ways to overcome boundaries that keep children from receiving dental care, including, lack of oral hygiene knowledge, confidence in ability to communicate with healthcare providers, and shortages of dental providers in underserved communities. In 2014, Mr. Singh found that TeamSmile addresses these issues and began volunteering for our organization and eventually becoming a permanent member in 2015.
As a Program Manager for TeamSmile, Jaipal manages inventory of all dental supplies, sterilization of all dental instruments, and maintenance of all dental equipment to ensure TeamSmile is prepped and ready for all programs and events. At TeamSmile programs, he assists in set-up/breakdown of dental equipment, works with the Program Director to act as a bridge between dental volunteers and general volunteers, and ensures our programs run smoothly so the children receive the greatest dental experience.
In the Fall 2017, Jaipal will be attending Howard University College of Dentistry to continue his pursuit of becoming a healthcare provider for children in need. He is very passionate about his hometown sports. If you see him rooting for the Chiefs, Royals, or Jayhawks, don't be alarmed. Cheer with him! Jaipal is also very proud of his ever growing family of 3 sisters, 1 brother, 1 nephew, and 6 nieces.